With the 2020 trade deadline approaching rapidly, the Ducks are poised to be sellers and could be making some moves to bring in young prospects and draft picks ahead of the February 24th, 12pm (PST) deadline. General Manager Bob Murray has taken a lot of heat from Ducks fans, especially during this difficult rebuilding period. Some of this anger has been warranted, while some not so much. So, I felt it would fun to go through this past decade's trades and see which moves worked out and which ones were a big flop.
All trades were researched and found via capfriendly.com
This will be a two-part series with the worst trades from the 2010's today and the best trades tomorrow.
To be honest, there were not as many bad trades as I was expecting. I guess that's what happens when your GM rarely makes blockbuster moves. These trades are in chronological order.
6/14/14 Anaheim Trades a Conditional 5th Round Pick to Montreal For Louis Leblanc
You might be thinking, this trade doesn't seem too bad, and on the surface you would be right. But when you dig a little deeper and learn that the conditional 5th round pick would turn into Troy Terry; you might think otherwise. The conditions on this trade were Leblanc would have to play 15 games with Anaheim for Montreal to get the pick. Leblanc never played a game for Anaheim so the Ducks kept their 5th round pick and drafted Troy Terry. Safe to say we dodged a bullet here.
3/2/15 Anaheim Trades Rene Bourque, William Karlsson and a 2nd Round Pick to Columbus for James Wisniewski
I am sure a lot of us remember this trade. The Western Conference leading ducks make a deadline move to bolster their blue line ahead of the playoffs and all it will cost is Bourque, Karlsson and a 2nd? Sign me up, many of us thought but boy were we wrong. Wisniewski would only play 13 regular season games and zero playoff games that spring while William Karlsson ends up scoring 40+ goals for the Golden Knights a few years later. So, I guess the winner of this trade is Vegas? Weird.
6/27/15 Anaheim Trades Kyle Palmieri to New Jersey for 2nd and 3rd Round Draft Picks
Following a deep run to the Western Conference Final and a devastating 7 game loss to the eventual cup winning Blackhawks, GMBM was ready to shake up the roster for next season. He started by trading streaky winger Palmieri to the Devils for a couple of draft picks. These picks never amounted to much and Palms went on to score 30 goals for the Devils that next season and has been one of their best scorers over the past 5 years.
6/21/17 Anaheim Trades Shea Theodore to Vegas for Expansion Draft Considerations
We all knew this one was coming. The expansion draft rules seem to catch a few teams off guard and Anaheim was no exception. The Ducks had an embarrassment of riches on the blue line following the 16-17 season. With Fowler, Lindholm, Vatanen, Manson, Theodore, Montour and Kevin Bieksa's full no movement clause, it was clear someone was going to be taken by Vegas. Trying to save his defense as best he could, GMBM made a move with the Golden Knights to send Shea Theodore to Vegas so they would pick Clayton Stoner at the Expansion Draft. The Ducks were in win now mode and this saved the team's NHL ready defensemen at the expense of one of their best prospects. Needless to say, this did not work out. The team has since traded away Vatanen and Montour and the once thriving blue line is now the team's biggest weakness. All the while, Theodore has done nothing except be the Golden Knights' top defensemen and quarterback their powerplay. Let's all just hope Murray is more prepared for the Seattle expansion draft.
2/26/18 Anaheim Trades Chris Wagner to the New York Islanders for Jason Chimera
This one really isn't the worst trade ever but it still upsets me to this day. Anaheim in the middle of a playoff race decides to swap 4th liners with the Islanders. The problem here is that one 4th liner was 26 years old while the other was 38. Wagner was a force to be reckoned with on the forecheck and penalty kill and could pot you a goal here and there thanks to his speed. Chimera's best years were far behind him and it showed during his time the the Ducks. He would be healthy scratched during the playoffs and didn't play in the NHL again after that. This is one of those trades were I will never understand the rationale behind it. Anyway, moving on.
12/3/18 Anaheim Trades Marcus Pettersson to Pittsburg for Daniel Sprong
At the time of this trade I think all Ducks fans were pretty excited. We were trading a middle prospect defenseman for a scoring winger with massive potential. At first this trade was looking great. Sprong was playing well on the wing and was scoring goals, which was something this team was just not doing before. All was well in Duckland. That is until the 2019-2020 season. The team is struggling on defense and Sprong has only played 8 games this season and has just 1 goal. Meanwhile Pettersson just signed a new 5-year extension and is an everyday defenseman for the Penguins.
1/14/19 Anaheim Trades Andrew Cogliano to Dallas For Devin Shore
Amidst one of the worst stretches in Ducks history, the team traded away fan favorite Cogliano to the Stars in an attempt to shake up the roster and get the team to start preforming. Coming back in the trade was Devin Shore. On paper this trade doesn't seem like much. Stars get a hard-working veteran to help in the playoffs while Anaheim gets a younger player with less money on his contract. Shore has been a healthy scratch and in and out of the line-up this season and has just 2 goals and 4 assists to show for it. Not saying the Ducks would be better with Cogs instead of Shore but wouldn't we all just be a bit happier seeing him in a Duck's uniform every night? I know I would.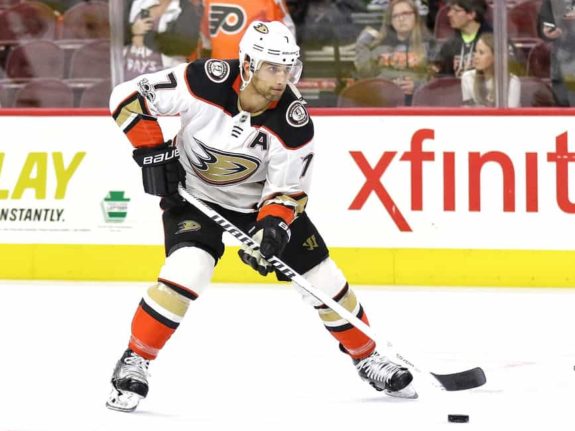 And that is it for the worst trade of the past decade. Did I miss anything? Feel I was too harsh on another? Let me know in the comments or on social media @DucksFanReport.
Check out the team's best trades of the decade coming tomorrow.